If you want to add another website to your server, this tutorial shows you how to do that. You also need to set the DNS record of the domain name to the server IP address.
Adding a Website
1. Log in to your hosting panel with your admin user details.
2. Once logged in you need to add a new user. It's best to have a separate user for each site on your server. This way, backups will be separate and much easier to restore if needed.
3. After you've made the new user, log in as the new user by hovering the mouse near the new username and to the right you'll see "Login as (webuser).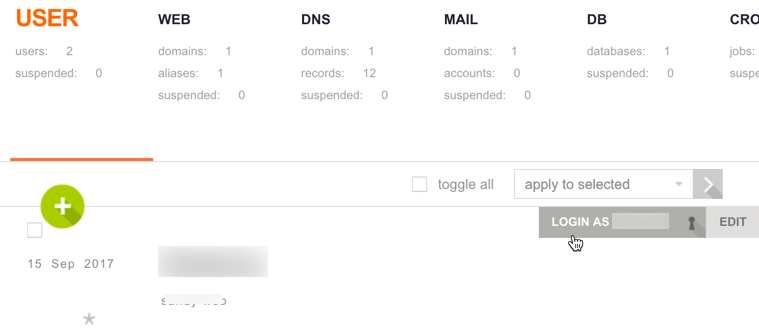 You should add additional web users if you want to have each site with its own user. The web user can be used to access your site files via FTP.
user > yourwebuser > login as (yourwebuser)
4. Go to "Web" and click the big green plus(+) sign "Add Web Domain".
5. Add the domain name for this site.
Example:
yoursite.com
forum.yoursite.com
Note: If you are going use a subdomain for the site make sure you delete the alias that is automatically created under the "advanced options" after you type in the domain input box.
5. Leave the DNS and Mail Support checked.
Advanced Options (Please only do these if you are an advanced user)
Add Aliases if needed
Proxy Support is best to leave it like it is unless you have advanced knowledge of these.
SSL Support – We suggest to enable the SSL after you created the website.
Web Statistics and Statistics Authorization- Do not enable this as it will drain your server resources and is not necessary.
Additional FTP – this is not normally necessary you can use the web user login for FTP access.
6. Click Add when done.
You'll need to set your DNS records.
BryZar partners with ScriptTechs. If you have questions about tutorials or want to request more tutorials, please feel free to either use our support desk or post at the ScriptTechs's forum.